Woolacombe Riding Stables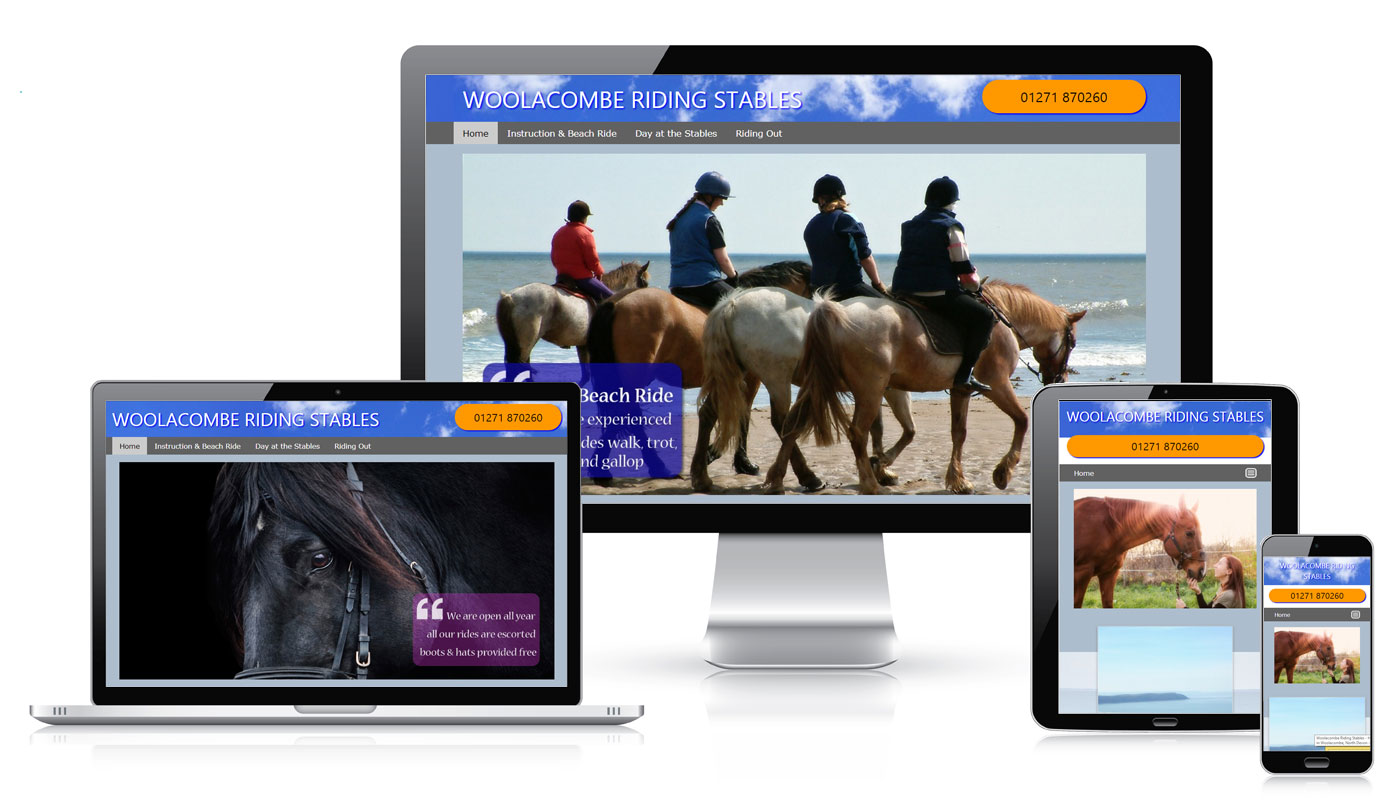 Woolacombe Riding Stables
If you fancy trying something a little different, whether on holiday or living in North Devon. Woolacombe riding stables offers horse riding for everyone. If you have never ridden before, or own your own horse and fancy a beach ride on one of their many ponies, this is the place. Staff are friendly, caring and helpful, and of course highly qualified.
With the chance to have lessons, go for a hack or go for your first experience on a horse there is something for everyone (aged 4+). The beautiful surrounding countryside and sea views make a this a great area to explore on horseback. For more experienced riders you can even go for a beach ride. The Stables are British Horse Society and Pony Club approved equestrian centre.
Riding school facilities include: Trekking, Outdoor Arena, Livery Yard, Pony Club Centre, Riding School, Trekking Centre & more.
Custom Website Design
A little bit more than a brochure site really. Five or six key pages to get the basics across and contact and location information.
A "Brochure" website can give your company or product a Web presence and can act as an online version of a business card. Brochure sites help convey a sense of permanence and credibility to your potential customers, and provides them with valuable information, such as contact details, opening times and a way to contact you.
Designed & hand coded in Woolacombe, North Devon too.
Google Optimised
Ranks really well in the search engines for related searches in the locale, doing really well given the size of the website.
Have a little search on likely search terms .. that is my skill and can be applied to your website!


Custom Website Design
Not created from a template, but built from the ground up, hand coded and attention paid to every detail.


Mobile Friendly
The design fluidly & responsively adapts to any screen size.


Stock Photography
Most photographs are of the stables own horses and ponies, but I sourced some high quality images for the website for here and there, which will be replaced in due course; more weather permitting than anything.


Web Hosting provided
Basic hosting, with plenty of bandwidth, multiple email accounts & more.


Visitor Statistics
Monitoring website traffic.


Inbuilt SEO
SEO Included throughout the process


Optimised Images
All Images optimised for speed